AfghanID Hospitality
Hospitality solutions for Hotels, Restaurants, Bars, Coffee-shops, guesthouses, Resorts ...
The hotel and travel industry is a unique one in that its IT and software needs are vastly different from other service industries. As a highly dynamic industry, hospitality is undergoing constant metamorphosis and so calls for software solutions and suites that are flexible enough to grow with such changes.

As a sole authorized regional partner for eZee Technosys Afghanistan, AfghanID offers full range of hospitality related IT products and services from eZee Technosys. One of the only IT companies in the industry who provides complete set of integrated solutions.
eZee FrontDesk - Property Management Software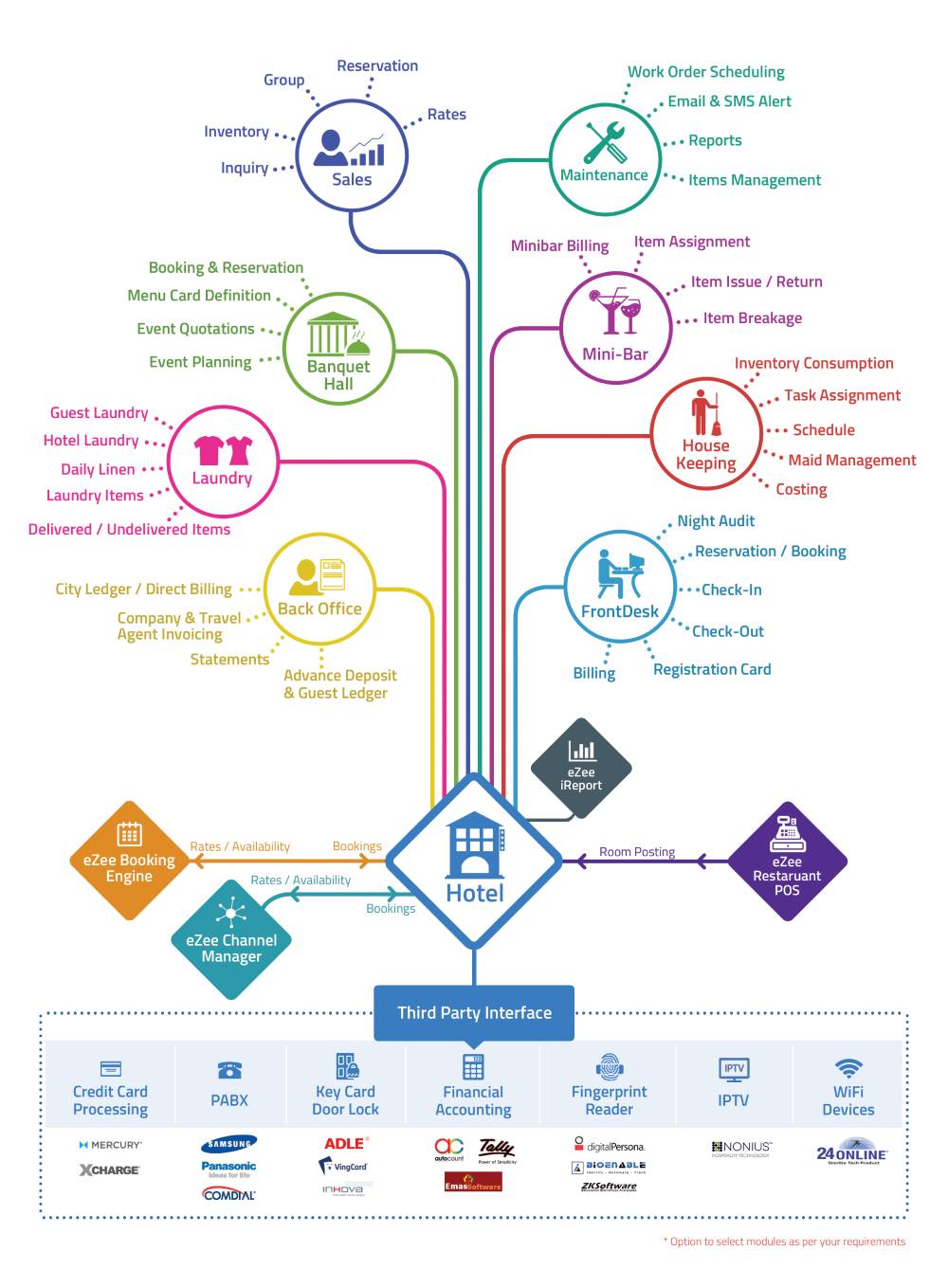 eZee FrontDesk is a state-of-art property management system that enables hotels and hotel chains to run business operations more efficiently and effectively. Designed and developed with latest technology meeting international hospitality standards.

Learning and adapting the solution is effortless with its easy to use nature and simple Graphical User Interface. Whether you are individual boutique hotel or multi chain property, the Property Management System can meet every specific requirements.

More info Download Hotel PMS Download Brochure
---
eZee BurrP! - Restaurant Software
eZee BurrP!, point-of-sale system which is ideal for restaurants, bars, night clubs, fast food restaurants, and more. No matter which or what kind of restaurant. Whether a restaurant in a single store or a nationwide chain, eZee BurrP! will help in attaining a new level of efficiency in the business operations.

The software also offers many modules for table reservation, stock, and material management. A kitchen display system for new orders, and allows restaurant managers to handle loyalty programs, promotions and gift vouchers, payroll, and a lot more with integration of PDA / Handheld devices for order taking facility. The web-based reporting helps anyone keep track of all the reports from anywhere in the world.

More info Download Restaurant POS Download Brochure
---
eZee Absolute - Online Hotel Management Software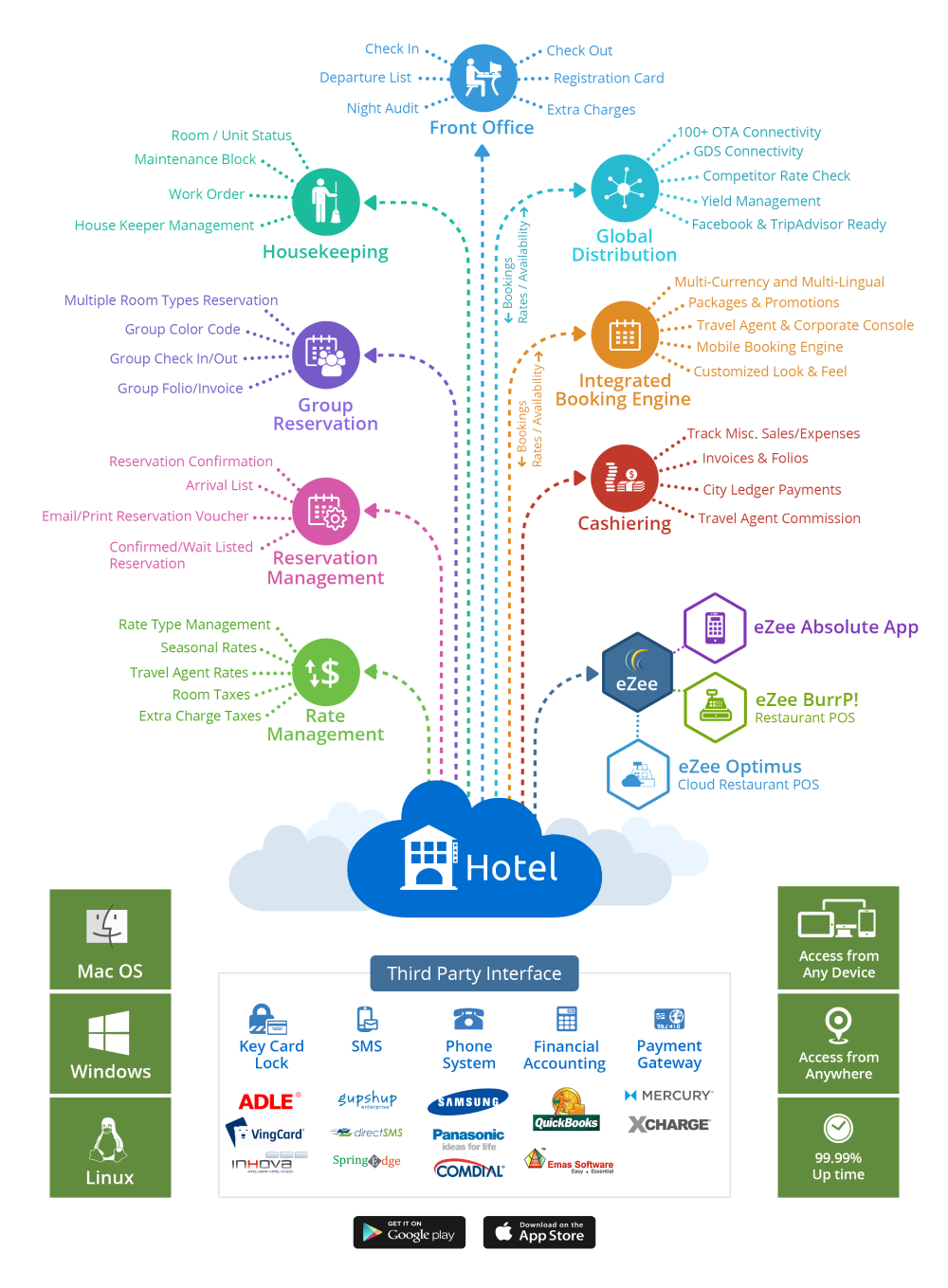 eZee Absolute is a cloud-based property management system that enables hotels of all sizes and types to manage their day-to-day functions with ease. It gives property owners, managers, associates, and other staff members to run their operations with higher efficiency.

eZee Absolute has been developed based on SaaS (Software as a Service) Technology for small properties, hotels, motels, resorts, clubs, B & B\'s, small hotel franchisees, clubs, condo\'s, hostel and apartments to multiple Hotel Chains industries to present them with the web based system through the Pay per use concept.

More info Get Demo of Cloud PMS Download Brochure
---
eZee Reservation - Hotel booking engine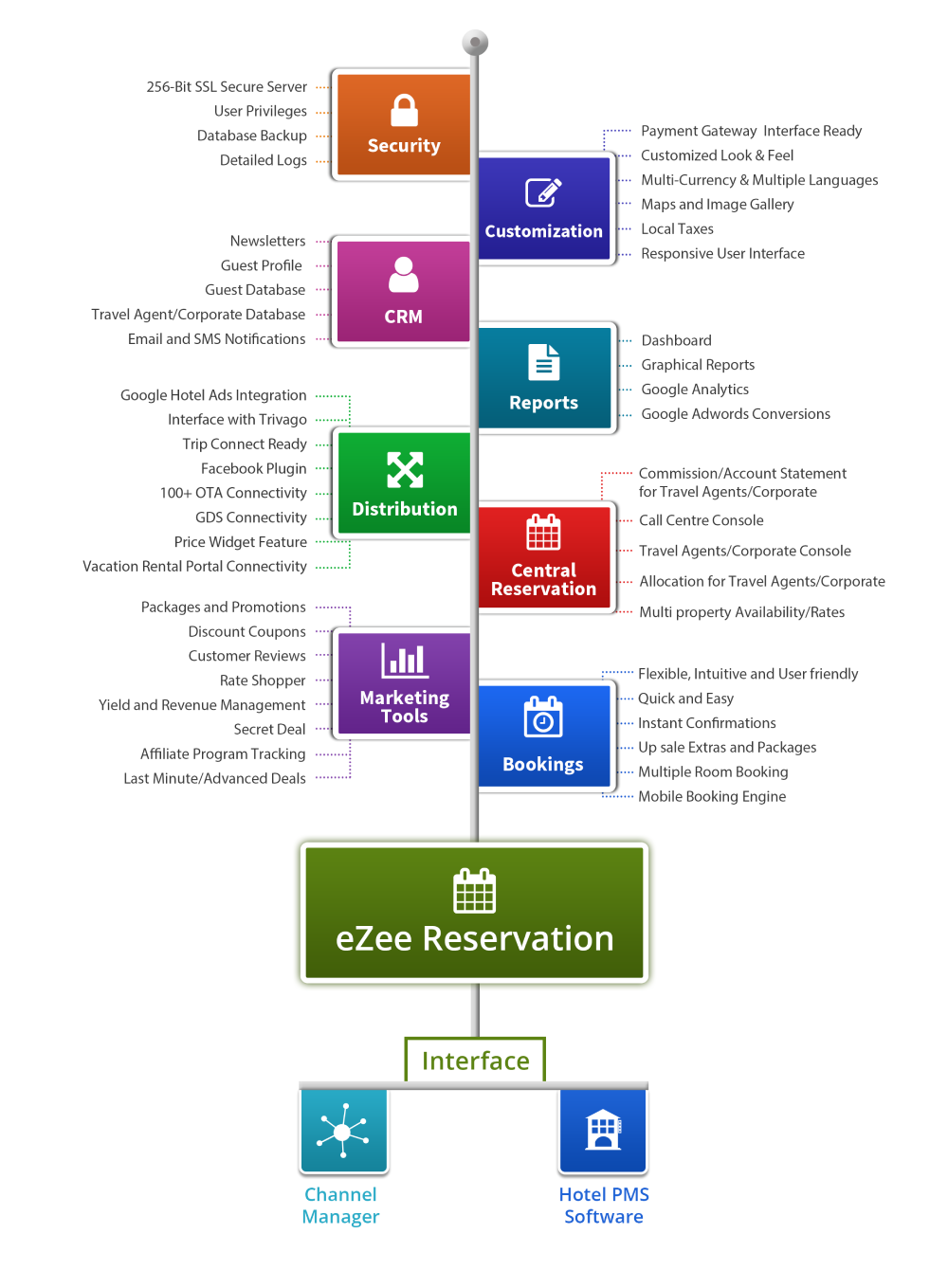 eZee Reservation is an Online Booking Engine which integrates seamlessly to the property website and gives clients the ability to book reservations, packages, and offers directly from the website. It lets you setup your entire property details through single dashboard while giving you direct access to key areas of functions of your property. Increase your global reach with eZee Reservation by providing clients with a superior booking experience.

Being cloud based, it does not require any kind of hardware or software upgrade, with a good internet connection and web browser to get started. eZee Reservation runs on all the major internet browsers and can be accessed from smart phones and tablets as well.

More info Get Demo of Booking Engine Download Brochure
---
eZee Centrix - Hotel Distribution Software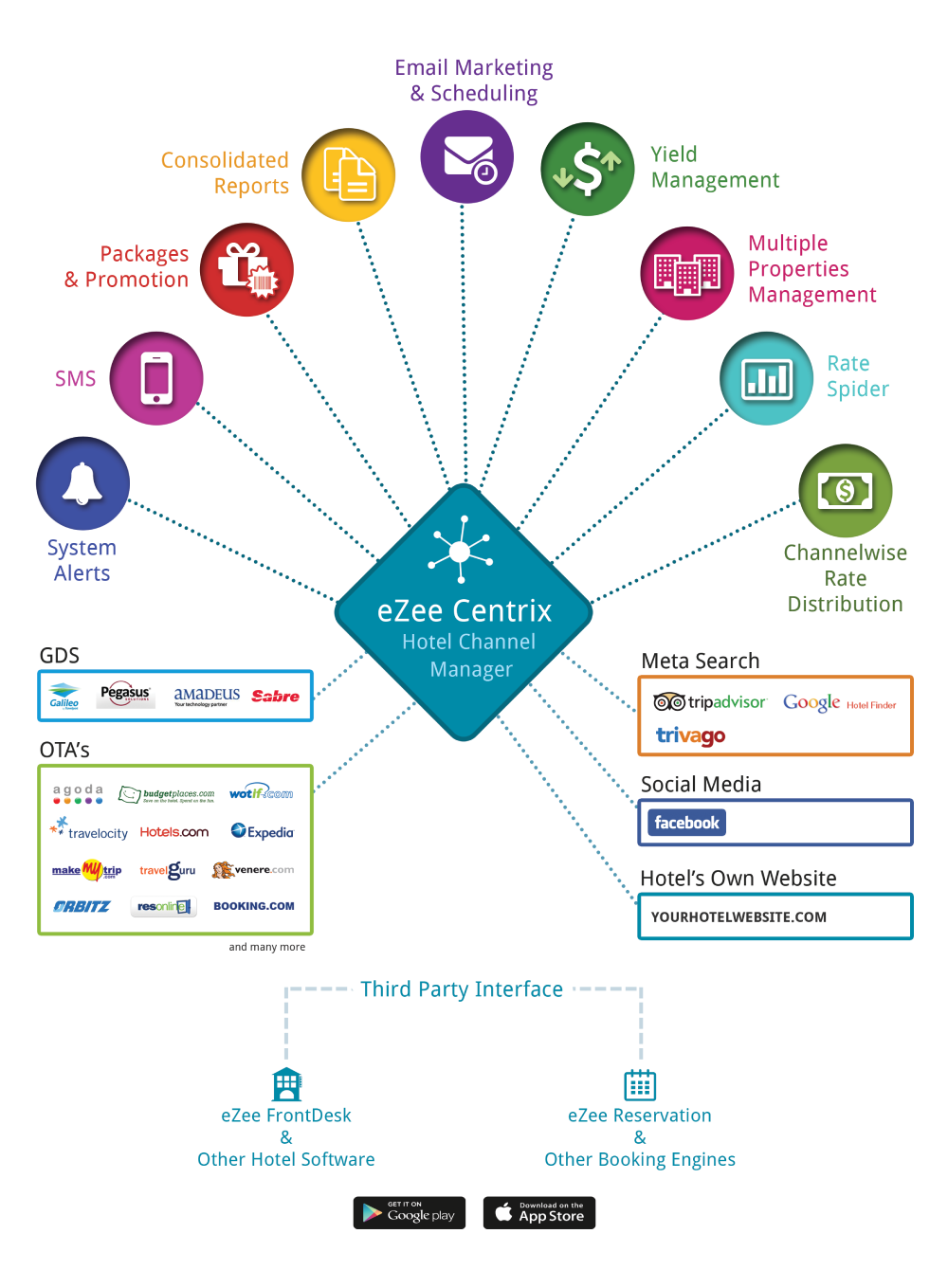 eZee Centrix is a Channel Manager that helps hotels to manage their property's rates and inventory on various channels/travel websites. eZee Centrix; a new state of the art channel manager give clients the tools to easily manage all property rates and inventory on various channels/travel websites. It will automatically update all the changes made on client's end to all the channels instantaneously. eZee Centrix is connected with more than 70 international OTA's.

Online Channel Manager can be accessed from anywhere at any given time through smart phones/tablets which keep you updated without any hassle no matter where you are. eZee Centrix ensures that your rooms are distributed globally by making your property connects to Global Distribution System (GDS) consisting of Amadeus, Sabre, Galileo and Worldspan.

More info Get Demo of Centrix Download Brochure
---
eZee iMenu - Digital Restaurant Menu
eZee iMenu is a Digital Restaurant Menu for restaurants. The application is a sleek and stylish way to present your menu items to your customers and providing them with a new interactive experience.

User-friendly interface offers a smooth navigation of the digital restaurant menu and ordering blazing fast. It will improve the customer service, efficiency and increase your revenue generation capability of the business. You can download iMenu today directly from Google Play Store or Apple App Store.

More info Get Demo of eZee iMenu Download Brochure
---
eZee iFeedback - Guest Feedback Software
eZee iFeedback is a versatile online feedback system for hotels and restaurants which allows to build stronger relationships with guests and customers. Complete freedom on how and when to collect feedback from clients. Powered with robust features, eZee iFeedback will give hotels and restaurants, complete freedom when engaging customers.

Customer feedback is of the vital importance for a business to be successful and they are the heart of every successful business. In the hospitality industry without satisfied and happy customers, it would be impossible for hotels and restaurants to be successful and constantly grow.

More info Get Demo of iFeedback Download Brochure
---
Appytect - Hotel iPhone Apps
Appytect is a mobile app builder for hotels, designed and developed specifically for the hospitality industry. You can build a custom mobile app for your hotel with complete branding and features meeting your specific requirements. Robust customization options will highlight hotel's brand and provide convenience in promoting hotel facilities and nearby attractions and destinations.

Smart phones in recent times have become the most widely used devices for researching holidays and slowly becoming the main source of bookings for the hotels. To reach out to maximum number of people, hotel mobile app can go long way. Hotel can have their Android Hotel App and iPhone Hotel App easily without any hassles with Appytect. Hotel Mobile Apps can provide hotels with a new mode of communication with their guests and build long term loyalty.

More info Get Demo of Mobile App Download Brochure